Things You Need to Know When You're in Home Isolation with Babies
We all are having quite a tough time while in isolation due to the outbreak of COVID-19. Like most people, you must be planning for your upcoming days and trying your best to make it more productive than before. Newborn baby's parents are in a different position compared to us because they have a huge responsibility toward their babies.
Most new parents seek external support and social help from their family and friends. Now they are restricted from moving out of their houses to do so. They cannot even invite anyone over because there is a chance that they might bring the virus into their home.
This infection is contagious and unpredictable; it transfers from one person to another quite easily. If your friends or family are carrying the virus, there is a chance that you might catch it. It would be life-threatening for you and your baby too.
When you are in home isolation with babies with such a pandemic around, you need to manage all your chores along with them. This is obviously most challenging, but you should not take it as a prison sentence. Below are some necessary measures that you need to take when you have a baby with you in isolation.
Make Sure You Have The Basic Needs Of Your Baby
You might feel a lot of panic when the world is under lockdown, and others are going crazy and piling stocks for two or three months. However, you must get essentials items for your baby and yourself. You will need: rice, pasta, flour, milk, some fruits, and other daily edible items.
You will also need a monthly diaper subscription. It's not easy to keep on going to a supermarket, and that is why it is better to have a subscription from any eco-friendly brand. You also need to make sure these diapers are hypoallergenic. These subscription things have excellent customer service, and they will update you about your monthly delivery packages.
What if you end up in a situation with no diapers and you have no update regarding the new delivery? No one can blame you for freaking out. It would be smart of you to subscribe to a reliable company or diaper brand.
Keep Using Soothing Tricks
You need to keep on using soothing tricks on your babies. Some babies cry when they are hungry, or they want to sleep, but others want attention. You can start holding your baby's body to comfort him or her. The following methods can help with soothing your newborn child;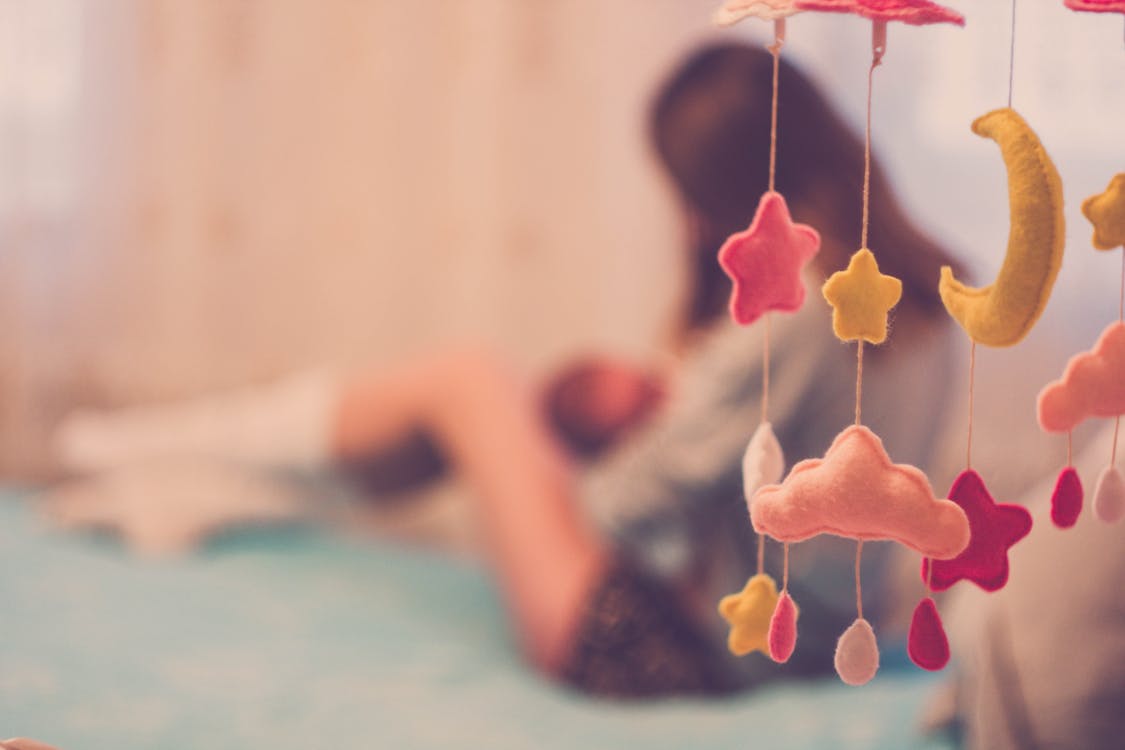 Hold your baby so that his/her face is on your shoulder, and the rest of his/her body is attached to your body
Swaddle them with a smooth garment because he/she might be feeling cold
Sing soft songs to them gently
Feed your baby can stop him/her from crying
However, you do not have to panic if any of the above methods don't work. Put your baby down on the bed and make sure the surface is smooth enough so they can have a safe sleep. Some babies cry for a long time, but they end up sleeping. It is quite surprising to find that your baby may just want to sleep on a flat smooth surface.
Necessary Precautions If You Have COVID-19 Symptoms
You must take precautions before touching or feeding your baby. In case you experience common symptoms of COVID-19, it would be better if you maintain a three foot or a one-meter distance from your child or wear a proper mask. Below are the common symptoms of COVID-19:
Sore throat
Coughing and sneezing
Difficulty in breathing
Fever and flu
Above are the symptoms that you might have if you are infected with the coronavirus, and in this scenario, it would be safer for your baby if you keep your distance. While this whole public health emergency is not over, you must adopt precautionary measurements for some time. Below are some precautions that you should take to avoid coronavirus;
Wash your hands for at least 20 seconds with soap and water.
Cover your face with a mask.
Avoid touching your nose, eyes, and mouth.
Keep yourself under home isolation with babies.
It will be a challenge for you, but the positive side is that your baby will remain safe.
Take Care Of Yourself
As a new father or mother, you might be worried about your baby, and you would want to take every possible precautionary measure. In this process, most of you forget to pay attention to your own requirements. You become restless and remain under pressure, and some of you might get scared of handling your baby too in case you make him or her sick. All of these reactions are common, but you do not need to pressurize yourself too much.
Take power naps and rest as much as you can. You can take these naps with your baby too. Call your friends and family to divert your attention because it will help you calm your body and mind.
Well, hope this read helps with the home isolation with your babies, as always take care and stay safe people!
MULTI PACK INCLUDES: 2 featured scents - 3 bottles of our Pearl Essence variant and 2 bottles of our Rose Oil variant. One for every sink in the house!
2 in 1 BENEFIT: This 2 in 1 moisturizing and antibacterial formula contains 2x moisturizing ingredients and kills 99.99% of bacteria encountered in household settings.
RICH, CREAMY LATHER: Experience the luxurious foam with Dial Complete 2 in 1 hand soap for rich, creamy lather that your hands will love.
Buy Now
Enter your model number to make sure this fits.
Soothes and moisturises your baby's delicate to dry, sensitive skin
Gentle enough for newborns
Buy Now
Curash Baby care Moisturizing Soap Free Bath is a gentle formula enriched with vitamin E and aloe Vera to keep baby's skin soft and smooth without drying or irritation.
aloe Vera to keep baby's skin soft and smooth without drying or irritation.
enriched with vitamin E
Buy Now